Dr. Lawrence (Larry) Gallagher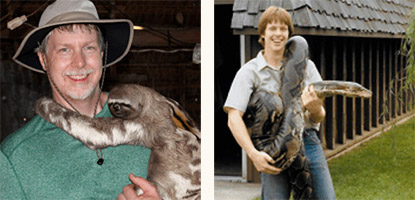 He opened Villanova Veterinary Hospital in the fall of 2016. He is a graduate of Lycoming College (class of 1987) with a degree in Biology. He also has a Master of Science degree in Biology from Bucknell University. In 1995 Dr. Gallagher graduated from the University of Pennsylvania, School of Veterinary Medicine.
Since high school, Larry knew he wanted to pursue a career in veterinary medicine. He worked at a pet store from ninth grade until he graduated college and in his sophomore year of college, he took a second job as a keeper in the reptile house of an AZA accredited zoo where he worked through graduate school. He also worked for a year as a research assistant in the Department of Entomology at Penn State University, and spent several years as a research technician at the Weis Center for Research at Geisinger Medical Center in Danville, PA.
After graduating from UPenn, he practiced small animal veterinary medicine and surgery in Blue Bell, PA for about 2 years before practicing in Bryn Mawr for 19 years. In late 2016, he opened Villanova Veterinary Hospital.
Dr. Gallagher lives in Villanova with his wife, Elaine. They have two adult children, Adrienne and Dane, one dog, McGraw, a "West Virginia Black-tailed Snipe Hound", and Ellis, the world's most mischievous cat. Ellis is a pronunciation of the acronym L.S.; you'll have to ask him in person what that stands for. In his free time, Dr. Gallagher enjoys fly fishing, SCUBA diving, hiking, and working on his classic cars. Ask him about his photographs of rattlesnakes!
Adrienne Gallagher
She graduated from Rosemont College with a degree in History and Political Science. With that background, it's only natural she now writes book reviews and manages her father's veterinary hospital.
She enjoys reading, camping, cooking, gardening, and watching the Flyers and F1. She recently moved from Center City to the 'burbs with her partner, Jes, and two troublemaking cats, Kuma and Tuukka.
Adrienne and McGraw have recently set aside a decade-long sibling rivalry in favor of teaming up against Ellis, who seemingly delights in pestering them both.
Katie Reilly
She is from Plymouth Meeting, PA and is currently a student at Villanova University. She is majoring in Biology and minoring in Spanish and Economics. She hopes to attend veterinary school in the future.
Katie has always loved animals, especially her yellow lab, Blake.
In her spare time, she enjoys horseback riding, trips to the beach, and cheering on Villanova's basketball team.
Brandi Staffieri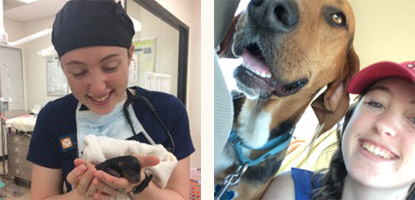 She is recent graduate from Rowan University with a degree in Biology with a concentration in Environmental Science. She is currently working to continue her education in veterinary school.
She enjoys playing soccer, singing, and reading. She currently lives in West Chester with her boyfriend Patrick and their coonhound Bronson.
Jackie Faulkner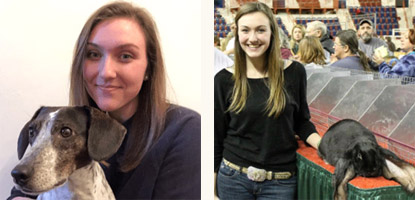 She is a recent graduate from West Chester University with a degree in Microbiology. She is currently living in Drexel Hill with her husband, Caleb, and their beagle mix, Roscoe.
When she's not working, she enjoys hiking, camping, and cooking delicious meals.
Dane Gallagher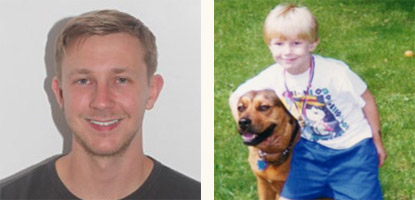 He graduated from St. Joseph's University with a degree in English literature, and is a current graduate student at Drexel hoping to continue his education in veterinary school. He enjoys photography, hiking, and generally spending time outside. He currently lives in Narberth with his girlfriend, their tarantula, and a chocolate lab, Blake. He remains McGraw's favorite sibling.
McGraw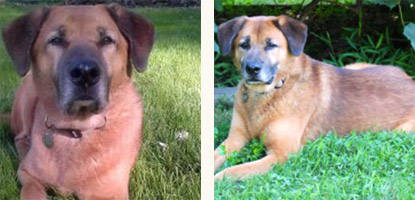 He is originally from West Virginia but moved to Villanova as a young pup in 2005.
Because of his easy-going personality and ability to get along with all dogs, McG spent 10 years as the test pup in doggy daycare, but has since retired. He now spends his days napping in the office at VVH, dreaming of chasing the groundhog around the neighborhood, greeting everybody with a happy woof, and reminding us he really enjoys treats.
Spot Ennis (Ennis = N.S. for Not Spot)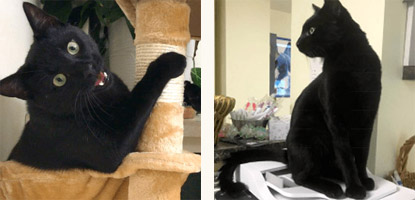 He was found in 2018 making rounds at an apartment building in Paoli and one of the residents brought him to us to find a home. He immediately decided VVH is his preferred home and made himself a integral part of the team.
Spot Ennis enjoys chewing holes in food bags to eat the kibble within, pilfering and eating Milk-Bones just out of reach of McG, playing with his many toys, watching exams, and making friends with every person, cat, and dog that comes in.