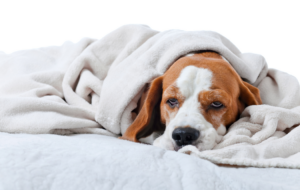 Due to a marked increase in the number of local canine respiratory cases, including Canine Influenza, we are recommending vaccination against the influenza virus for dogs at higher risk of contracting. Higher risk dogs include those that go to dog parks and/or doggy daycares, and those that are boarded.
This vaccination requires a booster vaccine 4 weeks after the initial injection, and annually thereafter. As long as your dog has had an exam in the last year and you don't have any questions or concerns for the doctor, we can schedule administering this vaccination as a technician appointment rather than a full exam with the doctor.
Dogs are most contagious during the incubation period (1-5 days) and can spread the virus even when asymptomatic. According to the American Veterinary Medical Association, "Virtually all dogs exposed to Canine Influenza virus become infected, with approximately 80% developing clinical signs of disease."
Canine Influenza is transmitted via droplets and through people and objects that have had contact with infected dogs. Symptoms of canine influenza include coughing, lethargy, fever, decreased appetite, and a runny nose. Dogs with influenza also have an increased risk of developing a secondary infection, like pneumonia. Cats can become infected and though there are no known fatalities to cats, there is also no vaccine for them. Currently there are no known cases of humans becoming infected.
Please contact us if you'd like to schedule this vaccination. Currently there is a very high demand and the fact that this vaccine is on allocation by the manufacturer means we have incredibly limited vaccines available. Due to this situation, we are requiring clients to schedule both the initial and booster vaccination appointments.