December 31, 2021
Closed Saturday May 21
May 18, 2022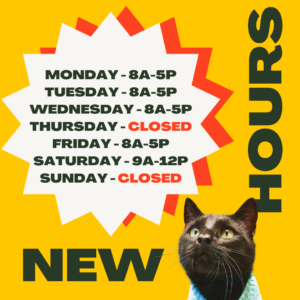 We have several things on our schedule this month that will [positively!] affect our clients but we need time set aside to get everything accomplished. As such, we are closing on Thursdays through February.
Some of these projects are routine, like training new team members. Others are complicated, like changing our electronic medical record software to a more robust program that will provide a streamlined reminder system and patient record portal. We're also working with an architect to finalize plans to connect the main building with the treatment building.
Therefore, our hours for February are:
Monday: 8a-5p
Tuesday: 8a-5p
Wednesday: 8a-5p
Thursday: CLOSED
Friday: 8a-5p
Saturday: 9a-12p
Sunday: CLOSED
As always when we're not in the office, should your pet experience an emergency please contact Metropolitan, VRC or VSEC.